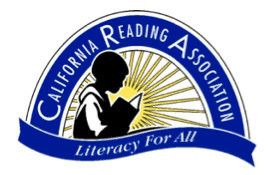 Write On With Reading Award ("WOW")
Deadline: June 30th
WOW Nomination Form
Purpose:
As part of making a love of reading more visible and to provide a positive view of reading for students, classrooms, and teachers, the California Reading Association recognizes students for their love of reading and their commitment to reading books.
Eligibility:
Students in grades K-12 who have written an essay on "Why I Love to Read." Participation is voluntary. Please do not enter more than five essays per classroom.
Criteria:
Teachers may submit student essays on "Why I Love to Read." Each essay must be the student's voluntary, individual work. It must reflect the student's actual attitude toward reading. K-2 and 3-5 papers are limited to one page, maximum 250 words, handwritten or typed. Grades 6-8 and 9-12 papers are limited to two pages, maximum 500 words, handwritten or typed. Papers are to be the individual work of the student. Please adhere to the California State Writing Standards for guidance in choosing student work to be submitted. Student work submitted should be in final draft form. "Invented spelling" is acceptable and a teacher explanation of a word or words may accompany the essay on a separate page for clarification purposes for the CRA Reader. It is mandatory that each entry be submitted with the nomination form attached. No entries will be returned nor will evaluations be provided.
Award:
Awards are given in four categories with one overall winner and additional honorable mentions in each of the following category levels; K-2, 3-5, 6-8, and 9-12. If there is not an entry or a winner in any category a winner may be selected from any category. The winning essays will be published in The California Reader. Each honorable mention will receive a special certificate (participation certificates are not provided for other entrants by CRA). The winners are invited to read their papers at the CRA Literacy Conference: California Young Reader Medal reception. The travel of the four over all winners to the conference will be supported by the program budget. A press release with the essay will be provided by CRA to the winner's school district and hometown newspaper if requested.
Procedure:
The teacher attaches a nomination form to each essay entry and sends it to Lynn Gurney by June 30th.
The CRA Citations and Awards Committee will read the essays and select the winners and honorable mentions.
The winners and honorable mentions and their teachers will be notified by August 30th.
Additional Information
Scan completed Nomination Form and essays to:
lynn@gurnee.org
or mail to
Lynn Gurnee
86 Esparito Ave.
Fremont, CA. 94539